Towards the end of last year I had the honour to photograph the elopement of Keren & Ryan, two lovebirds from New York City. Keren contacted me in the Spring of 2012 and asked if I would be available to take photos of their wedding in the Fall. I met them the day before their wedding day and we hit it off instantly. Je vous aime! I fell in total love with this couple.
We discussed the possibility of rain and possible indoor places for photos. Well, it ended up being a bitch of a rainy day but on top of it all, it was one of the most beautiful days I've ever lived through. These two really amazing people tied the knot at the Palais de Justice and walked around town in the rain having a grand old time! They braved the cold wet rain and I am so happy we didn't have to run for cover. I am speechless at how beautiful the photos turned out and it taught me a really powerful lesson that weather doesn't make or break your session, it's all about the subject. Period. And these guys totally rocked.
We started at Hotel Château Versailles on Sherbrooke Street. They stay here each time they come to Montreal so it has a special meaning to them. We did the reveal here in the back lobby area.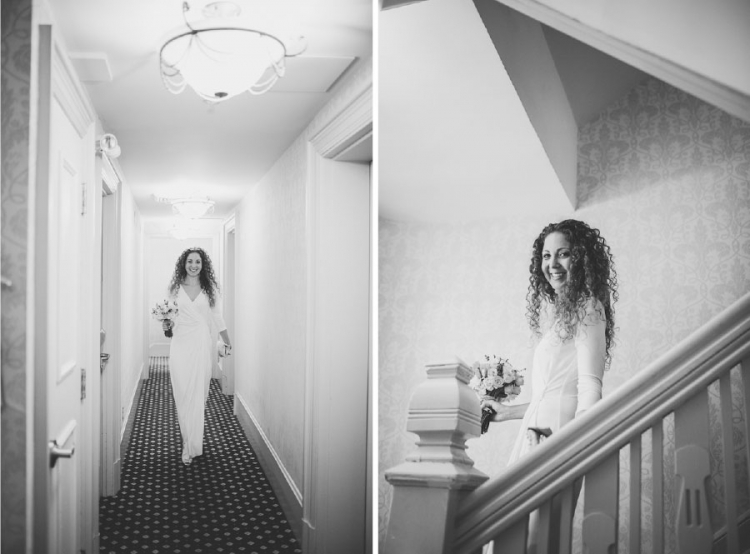 The "something blue" was a bag full of notes from home and abroad for them to read on this special day. The bouquet was made by the groom with flowers hand chosen from Marché Atwater.
We did some portraits in the rain in Old Montreal, and totally got drenched. They were amazing subjects, not complaining once and really weren't afraid to get wet. Another one of my favorite shots is the one below left where they are walking on St-Laurent boulevard corner St-Antoine, totally makes me think of a 1960's Bob Dylan kind of cover. What I love a lot about these two is that they are timeless. The dress looks vintage and the groom totally looks like he could be from any era.
She works at a magazine and he is a poet who live on the Upper East Side. They were beaming and happy and so full of life. And they love Montreal the way Matt and I love NYC. They come to visit the city once a year. Pre-Lucas, we used to go to NYC once a year. They explore the city the same way we do, by simple wandering and not being too pre-occupied about what they need to see, only what they stumble upon. I want to call them kindred souls… I love this couple. They remind me of a younger version of me and Matt although I was never that gorgeous and thin.
A moment just before the wedding ceremony at city hall… I love this shot. I cannot recall what was being said but it's so rock and roll to me. Reminds me I should take more photos in elevators.
We had an amazing time just getting soaked and laughing. My assistant Alison was also with us and was a complete riot. She can make anyone laugh. You can see the rain on the shoulders of the groom… that is what gives it away that it was pouring like crazy.
A few last photos from Café Fuchsia on Duluth Street. Love that cafe and many thanks to the owner for letting us take some photos of our beautiful couple as we hid out from the rain.
We ended the session back at their hotel in the back alley getting totally soaked. I honestly don't think I've ever gotten so wet for a shoot ever. The photos make it look like it was not so bad, we're good fakers aren't we? I am so very happy for the two of them as they start their new lives together.
It was so hard to pick the photos for this blog post… maybe it's too many or not enough. I don't know how regular wedding photographers do it. I had a lovely time at this wedding and although I am not sure if I will continue to do them moving forward, I must say that I loved every second of this wedding shoot. Weddings are an insane amount of work and when you have a toddler at home, it becomes a lot more difficult to have the proofs ready in a reasonable amount of time. I had decided at the end of 2012 not to do weddings for a while but after looking at these images, I'm not so sure I'm completely retired. I had way too much fun.
What my bride wrote to me once she saw the sneak peak of the proofs: "Ok you are beyond!!!! We are jumping up and down with excitement! You are the best best best! What an amazing surprise! You are so freakin talented! How did you make us look that good????????? That was an absolute dream to go through. Cannot thank you enough!!!!!!! I am officially beaming and squealing!!!!!! I want to hug you! Once again…i cant thank you enough! Amazing photographer, witness and friend."
She made me smile for the next month.